Lichen Chat and Improvement Groups - LCIGS
(See also Lichens for Absolute Beginners - LABS - Lower down this page)
Judith Allinson writes:
Latest news: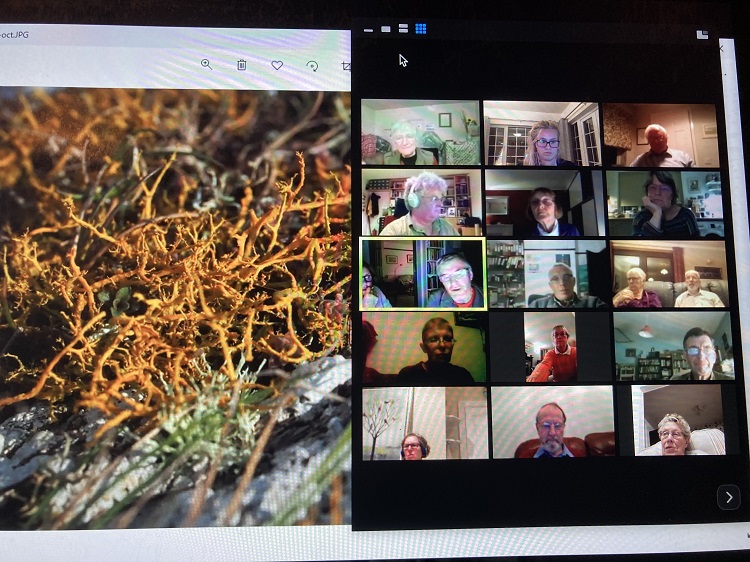 It is 3 May 2022 and I can report that the
Lichen Chat and Improvement Groups (LCIG) are still going strong..
These started in October 2020, 8 months after the start of Covid Lockdown in March 2020. Over winter we meet fortnightly, over summer we meet every four weeks.
------------------
Regular:
There is a Tuesday evening group (7pm) and a Wednesday morning group (10am). 
If you are interested in joining in one of these groups, or have questions, or would like to have a private practice session using Zoom before the meeting,  please contact zoom-improvement@britishlichensociety.org.uk 
We welcome new participants - whether you are experienced, an intermediate, a post-beginner or a beginner. They are run for members of the society but we very much welcome non members in the hope that you might join someday soon. 
As an example a 2 hour meeting might include:
1. Chat, or breakout groups for chat;
2. Three people give short 2-10 minute presentations each followed by a period of 5 to 10 minutes discussion.
3. Five minute coffee break
4. Opportunity for announcements
5. People show pictures of lichens they would like to ask advice about.
6. Discussion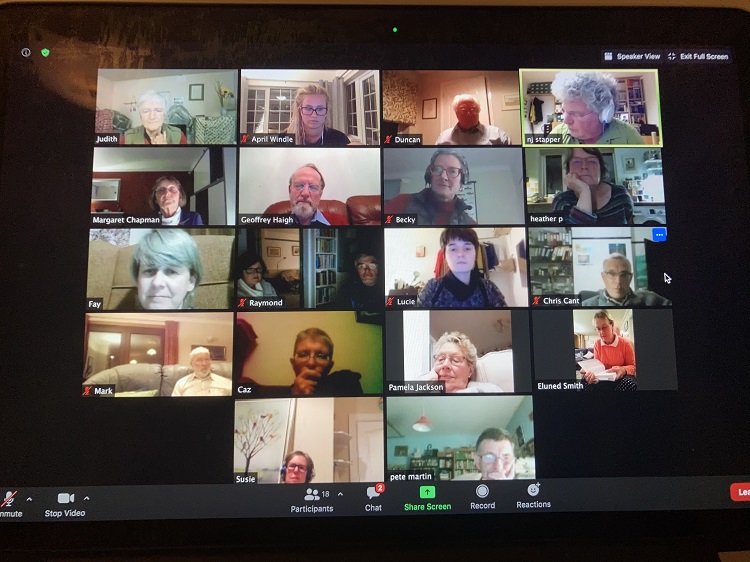 The meetings are a serendipity but it amazes me what interesting things we learn because such different people attend, including several BLS members from abroad. The computer screen is an excellent way of showing and examining details of lichens. I hope that every participant will deliver at least one presentation, (even if just a short 2 minute one about a lichen outside their back door or on their apple tree). There are two separate groups: the Tuesday Evening Group and the Wednesday Morning Group.
Dates 2022 Tuesdays 7pm; Wednesdays 10am
10, 11 May
7, 8 June
5, 6 July
2, 3 Aug
30, 31 Aug
 
LABs groups - Lichens for Absolute Beginners
 
Some people at the LCIG groups were very much beginners. So we  started some extra "tutorial" groups with just 4-8 people in them, at different times during the week - shorter sessions - aimed at beginners, to explain and practise using the language in describing lichens. 
Two new groups have started recently (Feb/March 2022): These have now filled. If you would like to be put on a waiting list, should we get enough numbers we could consider starting another group.
If you are interested in attending such a LABS group as well as, or instead of, the LCIG group, please email zoom-improvement@britishlichensociety.org.uk 
History:
Six beginners groups (LABS) ran in 2020-2021. Three of these are still running as Post-LABS groups. (called "LNABS" and "ILG"  and the third has morphed into a local group "LISS" - Lichens in South-east Scotland)
Two new groups started on Wednesday evenings  in Autumn 2021. These have now finished, and one of them is continuing as a Post-LABS group (calling itself "ABLE"); Two more groups started in spring 2022 Wednesday evenings: 7pm: ( starting 9 Feb 2022)  Monday evenings: 7.30pm (starting 7 March) but these are both full.
One - or several new LABS groups will start in September. Please contact zoom-improvement@britishlichensociety.org.uk if you would like to put your name down for one of these.
------------------------------------------------------
Beginners may also be interested in the  "Learn the Language" short online unit of the BLS which can be carried out independently or with the help of a volunteer BLS tutor.
------------------------------------------------------