Image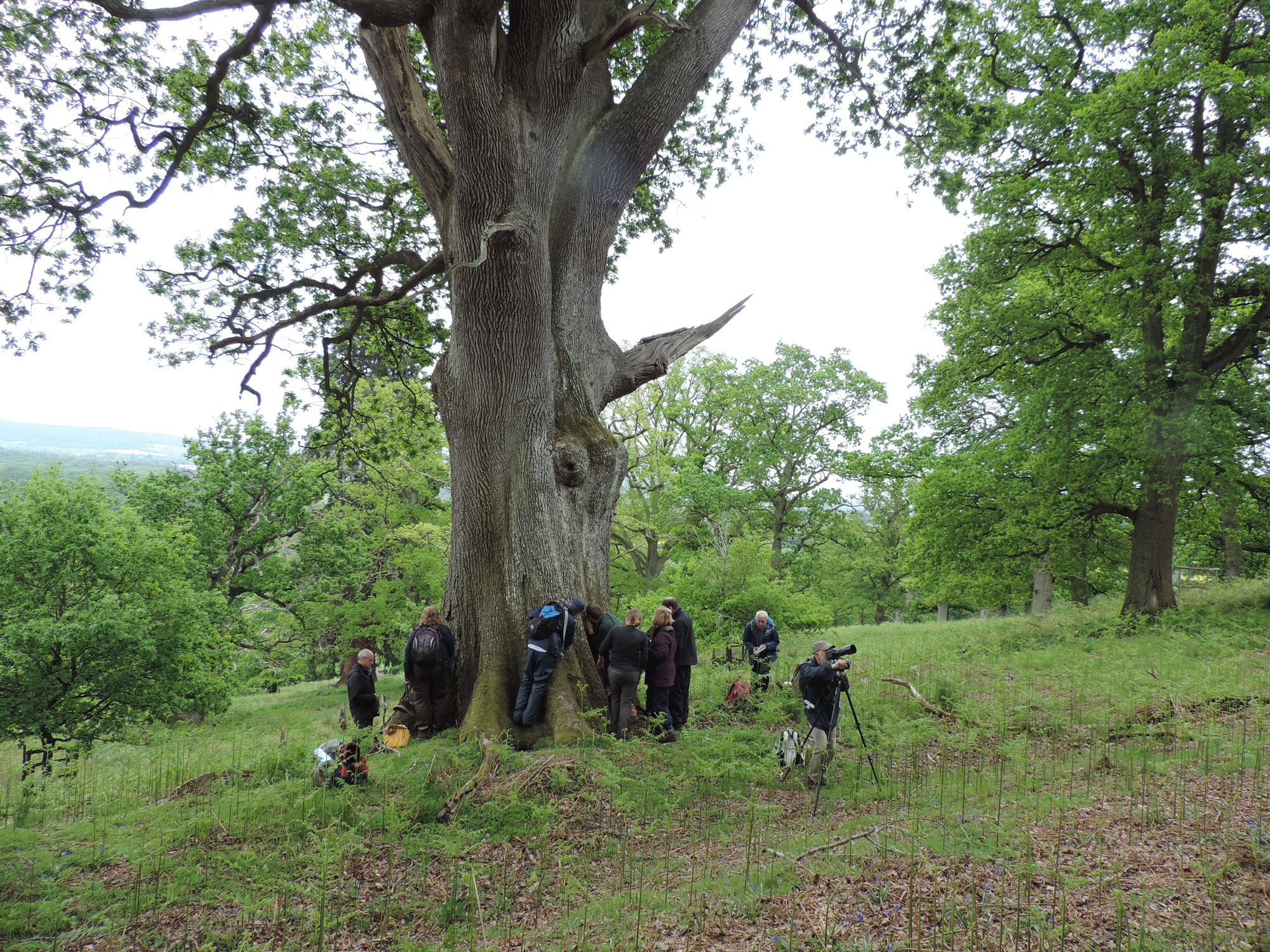 Introduction
In contrast to normal meetings, which aim to cover a wide range of habitats and sites, survey meetings are more intensive and directed towards a conservation target. The target is typically assessing the conservation importance of a single under surveyed site, thought to be of high conservation interest, but can also include surveying a rare species or a species assemblage. In addition to a Bulletin article, a full survey report is produced and these can be downloaded below. The first survey meeting was held at Moccus Park in 2018. As well as expert surveyors, improving lichenologists can also attend to help in the search for species and to learn and improve their skills.
Surveys
Moccas Park National Nature Reserve, Hereford, 2018
The survey was carried out between the 16th and 17th May 2018, and was attended by 16 people, with Mark Powell and Neil A. Sanderson leading the lichen recording. A total of 301 taxa have been reliably recorded from the SSSI and total of 203 taxa were recorded in 2018. Of the species seen in 2018, a remarkable 60 taxa were new to the NNR, 30 of these were new records to Hereford and one taxa, Rinodina exigua, was new to Britain.
The survey found that the lichen assemblage at Moccas Park has been badly damaged by past acidifying pollution and is currently menaced by elevated ammonia levels, however, much more had survived than had been previously appreciated. The park still has an interesting relict woodland assemblage, along with a nationally important ecological assemblage of "Old Trees of Open Places", at least nine rare specialist species of veteran trees with nationally important populations. These including a massive population of Lecanora sublivescens, one of the largest known in Britain, as well as Bacidia incompta, Buellia hyperbolica, Caloplaca lucifuga, Lecanographa amylacea, Lecanora quercicola, Agonimia octospora, Buellia violaceofusca, and Ramonia dictyospora. In addition a nationally important population of the Endangered Gyalecta ulmi EN (NR/IR/S41) known from a limestone outcrop was monitored. Management recommendations were made.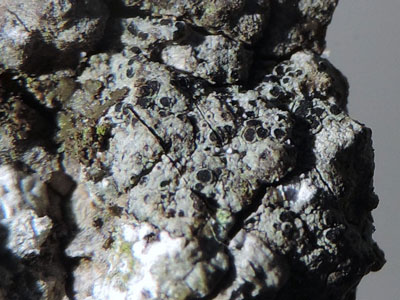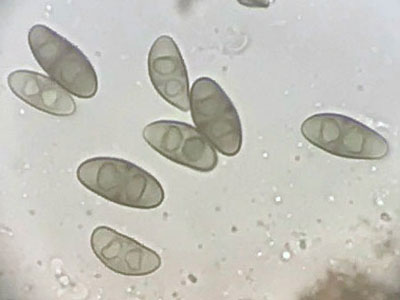 Rinodina exigua, new to Britain, collected from two Ash trees during the survey
Rydal Park, Westmorland, 2019
The survey was carried out between the 4h and 5th September 2019, with some additional recording on 6th, and was attended by 15 people, with Brian Coppins and Neil Sanderson leading the lichen recording. Rydal Park is a 19th century landscape park but incorporates veteran trees from older landscapes. The low-lying more level land was formerly in-bye arable land (Lower Park), but included veteran boundary and stream side trees, along with early 19th century parkland plantings. The slopes above were an ancient upland pasture woodland enclosed within large out-bye fields. The lower section of this had been incorporated within the landscape park by opening up the pasture woodland and retaining veteran trees (Middle Park). The upper part remained as unaltered upland pasture woodland (High Park). The park had been visited by Francis Rose in 1970 and 1981, and important species such as the Vulnerable Lecanora quercicola and the declining Lobaria pulmonaria recorded, but there had been no recent recording. A total of 277 taxa were recorded during the survey, of which 244 taxa were recorded as epiphytes with an additional taxa 33 on the rocks. Of these 47 of these were new records to Westmorland, 27 of which were lichenicolous fungi, a testament to Vince Giavarini efforts looking at this neglected group.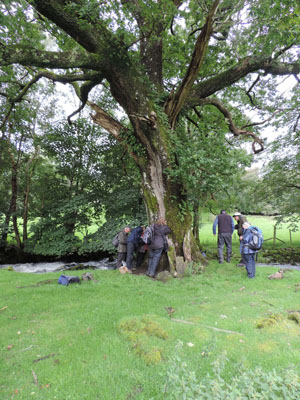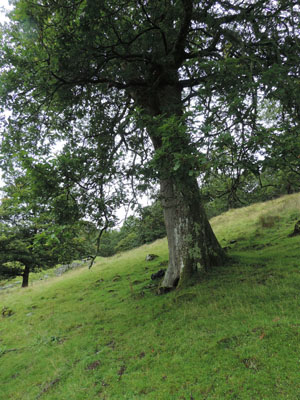 Rich veteran Oaks in Lower and Middle Parks
The park spanned a remarkable range of habitats. The old Oaks at the base of slope with well developed lowland oceanic woodland assemblages with species including the southern oceanic species Agonimia octospora, Rinodina isidioides, Agonimia flabelliformis and Thelopsis rubella, the suboceanic species  Caloplaca herbidella s. str., Lecanora quercicola and Rinodina griseosoralifera along with more general oceanic lichens including Lobaria pulmonaria and Sticta limbata. This passed quite sharply up slope at about 100m elevation into an upland rainforest assemblage; the boundary possibly reflecting the cloud line on rainy days. Here characteristic species of acid bark woodland communities appear including Bryobilimbia sanguineoatra, Calicium lenticulare, Hypotrachyna taylorensis, Micarea stipitata, Micarea xanthonica, Mycoblastus sanguinarius and Sphaerophorus globosus. Base rich bark species were still found lower down on Oak but higher up the Oak became very acidified, however, some spectacular ancient Ash trees supported base rich bark species such as the Vulnerable Toniniopsis separablis (Bacidia subincompta), Mycobilimbia pilularis and Pannaria conoplea. Middle and High Park also support other habitats of interest including dry bark and lignum, adding species such as Microcalicium ahlneri, and smooth bark on old Holly with Mycoporum lacteum. The higher sections of the High Park had been seriously impacted by acidification by acid rain (or acid mists?), while Middle Park and Lower Park appeared unaffected.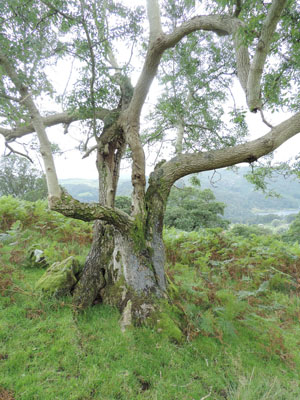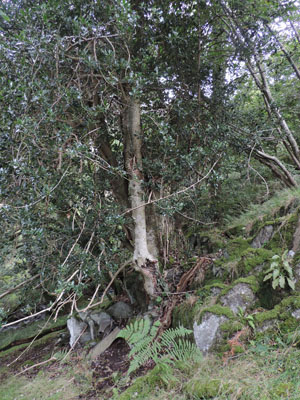 Ancient Ash and Holly in High Park
The parkland scored 34 using the Southern Oceanic Woodland Index (SOWI) for the 2019 survey. The threshold for SSSI quality in this index in this area is 20, so the SOWI score is well over this. It also scores 14 in the Upland Rainforest Index (URI), so also above the regional threshold for SSSI quality, which is 10 for this area. The  Middle Park and High Park also both pass the SSSI thresholds individually. Lower Park does not pass the thresholds in both indices; however, Rydal Park also supports many species of conservation interest in their own right, many of which are found in Lower Park, including the highest number of SSSI criteria species. Seven of the epiphytic species recorded in 2019 could be assessed as having populations that qualify for SSSI site selection in their own right as Threatened lichens in Britain. These are either Vulnerable or higher threatened species (Bacidia subincompta, Caloplaca herbidella s. str., Lecanora quercicola & Lecanora strobilina), or Near Threatened species that are International Responsibility species (Agonimia octospora, Ramonia dictyospora & Rinodina isidioides). Of these, Caloplaca herbidella s. str., clearly qualifies as the largest known population in England, while Lecanora quercicola, Ramonia dictyospora and Rinodina isidioides are the largest known, or only extant populations in the Lake District. The survey found that Rydal Park is an important site of international significance for epiphytic lichens.
In terms of management and threats, the current structure of the parkland and pasture woodland is in good condition for the lichen assemblage but a few recommendations about management were made. The most significant current, or potential, damaging impacts are from external threats such as acid rain and Ash dieback. The latter has the potential to be locally devastating higher up, where Ash is the main tree of interest, partly as a result of past acidification.