Image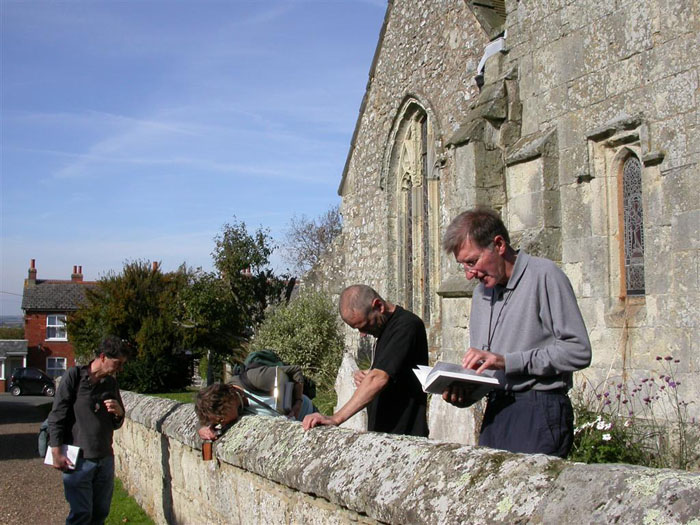 Churchyards are important sites for lichens that live on stone, especially in the areas of the UK where stone outcrops are rare. The different rock types used for the walls of the church, the churchyard wall and for gravestones, provide suitable growth sites for a wide variety of lichens. Further micro-niches occur on buttresses, areas of lead or copper run-off, windowsills, mortar, bird-perches, slates… Many churches also offer trees and worked wood, such as in the form of benches, for lichens to colonise. Species lists can contain more than a hundred species in a single churchyard.
The Churchyards Sub-Committee was an active part of the Conservation Committee for many years. It dealt primarily with data collection, conservation, and research relating to Churchyards.
The group was instigated in the early 1990s by the late Tom Chester, with the aim of surveying at least one churchyard in each of the 10km squares covering lowland Britain. This was achieved and the emphasis moved on to churchyard surveys covering the South-west, Wales and the Welsh Borders, Northern England, Scotland and Northern Ireland. 
Some repeat surveys of churchyards that had not been visited since the 1980-90s were also carried out to see if changing environmental conditions had led to considerable changes in the lichen flora. In some, the improvements in air quality had led to an increase in lichen diversity, but others had suffered from the shade of maturing trees and the modern practice of leaving parts of churchyards unmanaged as "wildlife" areas, or from the increase in atmospheric nitrogen pollutants. Re-surveys of churchyards provide valuable data on how widespread these issues are and their effects on different lichen species.
Records made by the Churchyard Sub-Committee and other enthusiastic recorders of churchyards are included in the BLS database.
Much of the present knowledge of churchyard lichens and their conservation has been built upon the work of this talented and committed group of lichen lovers.
More information on churchyard lichens and their conservation is available here.