Image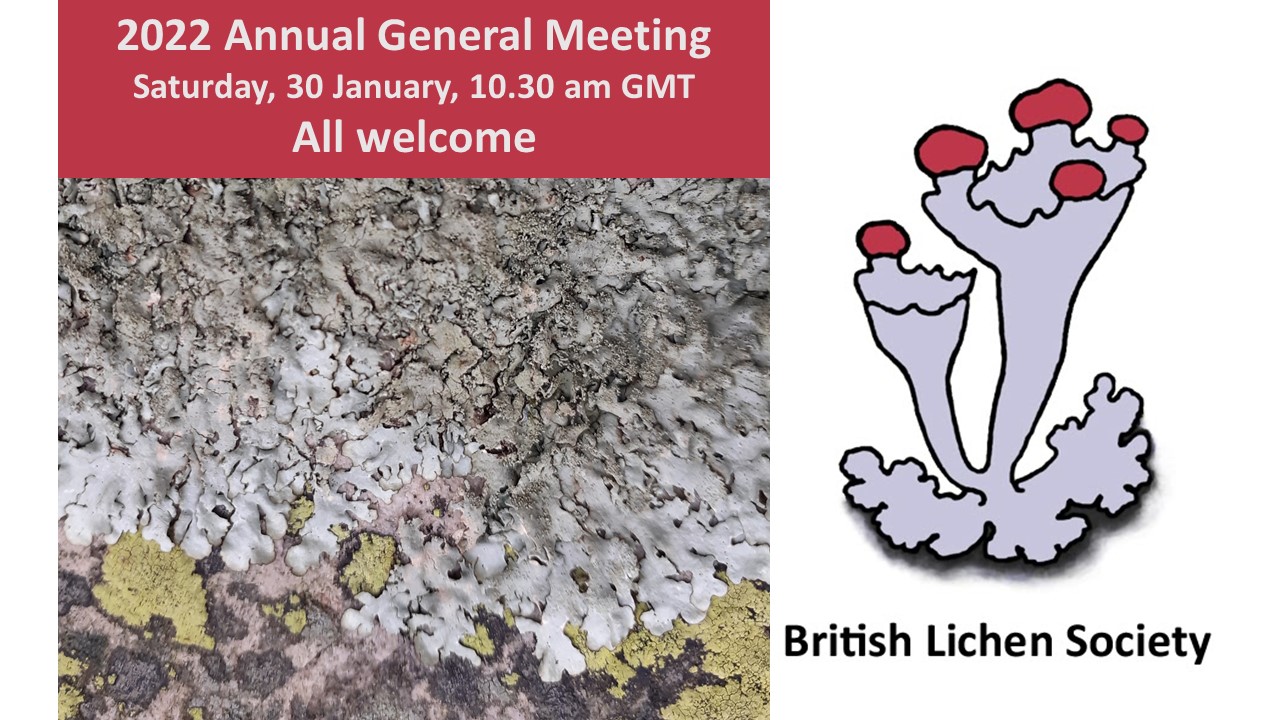 Dear BLS Members and Interested Lovers of Lichens,
It is time to share with you arrangements for this year's AGM, during which verbal reports from all the officers will be presented. Details of the meeting are below and attachments regarding finances are included. All members and non members are welcome to join; only members are allowed to vote.
Meeting time and link for joining AGM
As previously advertised, our AGM this year will take place from 10.30, Saturday 29th January, to end at 1pm. We are putting together some online social meeting times before and after the meeting, with hopes that people will join those to visit with other members.
Joining the AGM:
We ask you to please register for the meeting, allowing us to have a roll of members present. Please use the link below to register. After registering, you will receive a confirmation email containing information about joining the meeting.
The full url for the registration link is
https://us06web.zoom.us/meeting/register/tZIqceCtrzwsH9AcW-BNKu36kSMrmBH_4zNE
Joining the pre-AGM social visit on Wonder.me
Wonder.me is an online platform to visit socially or professionally, used to great effect in the IAL9 meeting hosted from Brazil. It allows a single link to be visited by any number of visitors, and once you are in that virtual coffee-break space, separate virtual rooms are created by the users, spontaneously. You arrive, use an avatar (your computer will ask to take your picture!), and appear as your avatar in the space, with your physical movement controlled by your mouse. If you virtually bump into a person or group of people, you both/all appear in a small separate meeting space, where you can all speak/see each other using your webcams, if enabled. It takes a little getting used to, but it works well. There is a list of all the people in the room and you can find them by highlighting their names – check the menu on the right hand side, but there is a super-short tour to introduce how it works when you first 'arrive'. Take a chance to speak to someone you've always wanted to!
Clicking this link takes you to the BLS Winter 2022 Lounge space, and you can plan to meet your colleagues in one of the meeting spaces, e.g. 'Beginners' Bay', 'Wales', 'Ask a ?', etc. after you agree to join the room. Give it a try – it's fun! This space is open already, so you can plan to meet people there in advance at a time of your choosing, or come along before or after the AGM.
Joining the post-AGM social visit or questions for officers Wonder.me rooms
If you want to ask any questions of Officers or Trustees, or just have a chat, we will try to ensure a good representative sample of people are on hand to say hello. Look out for folks with BLS in front of their names.
We understand that at the moment Wonder.me only works for computers that use Chrome, Firefox or Microsoft Edge. So apologies for people with mobile phones or people that use Safari.
BLS Accounts for Approval
Each year, our Treasurer keeps our accounts, writes a report for the Charities Commission and shares the account and reports with members. The full report for the Charities Commission for FY20-21 along with the summary of accounts have been posted on the BLS website here. Please read the summary of accounts, as members will be asked to vote to approve these during the meeting.
Election of Trustees and Officers
The new arrangements for the British Lichen Society, in its new CIO form was explained in the Winter 2021 Bulletin. In short, Officers and Trustees are separated, and both need to be re-elected for their terms. This will be presented during the meeting in more detail.
Approval of Minutes from 2021 AGM
The minutes of the last AGM, as printed in the Summer 2021 Bulletin need to be approved.
Awards
Normally our awards happen during our AGM, at the end of the day after the talks. We will present awards at the end of the AGM after the reports.
Looking forward to seeing you all there,
Rebecca Yahr
British Lichen Society President