2022 AGM and Programme of Talks
First of all, I was really hoping to see some of you in person at the end of this month, but I'm afraid that is not on the cards. Due to current circumstances, mainly regarding uncertainty about large groups meeting, we will be unable to organise a hybrid meeting following our AGM as we had planned. Kew's current guidance is not to host large meetings, and I know that many people are wary of large gatherings. The officers and trustees met last night (10 January), and we decided that the best course of action will be to go ahead with the formal AGM business meeting on Saturday 29 January at 10.30AM as planned, as an online Zoom meeting, but to postpone the programme of talks until the Spring, when there seems a more viable option of people meeting in person again.
Further details will be confirmed soon - via email, our website and social media, but for now, please rest assured that we will conduct the business of the Society as we have become accustomed. All members of the BLS will be invited to join to listen in to the reports from the committees and officers, and to vote as required to affirm accounts and the roles of the officers and trustees.
 As for the programme of talks, we sincerely hope that come spring, those willing and able to meet in person will be able to do so. Therefore, a small committee will be formed to discuss the best way forward to make a hybrid meeting a reality, so that those who can join in person are able to, and those who would like to join from a distance can still do so in real time. We are hoping, as announced in the Bulletin, to have a programme which includes a field meeting and allows new and not-so-new members to share knowledge in person, but the venue is to be confirmed.
Frank Dobson
I am sorry to have to inform you that Frank Dobson, well known to many members, died a few days before Christmas. In his involvement with the Society over many decades he was in turn Treasurer and then President for the years 1992-94.
Everyone who knew him will recognize that Frank's enthusiasm and patience encouraged many people to develop a special interest in lichens. Students of his have remarked that it was always a pleasure to spend time with him on his Field Studies Council courses in the early / mid 1990s and through BLS meetings and workshops. Many stalwarts of the BLS will always proudly say that they are products of the Frank Dobson school of lichenology.
I was not lucky enough to learn from him in the field; however, I am one of the many more people who chiefly knew him for his book 'Lichens: An Illustrated Guide to the British and Irish Species', known affectionately as 'Dobson', which is still in print in its 7th edition. The first, published in 1979, broke new ground as the first fully illustrated guide to lichens for Britain and Ireland. It was popular from the start and is still the main introductory manual, indispensable to anyone starting to study lichens or wishing to know the British and Irish species better. Who of us has not been on a field meeting and heard, "Does anyone have a Dobson?", when we need to check chemistry or diagnostic features for the lichen under examination.
Before he died, Frank expressed his wish that the BLS would take on the mantle of keeping further updates of his book coming, and that is our intention. It is his field guides that have enabled, and still are enabling, many people to start the journey into lichens. His legacy is huge, and he will be missed.
Rebecca Yahr
British Lichen Society President
Frank Dobson at the 2009 Derbyshire meeting of the BLS, by Steve Price: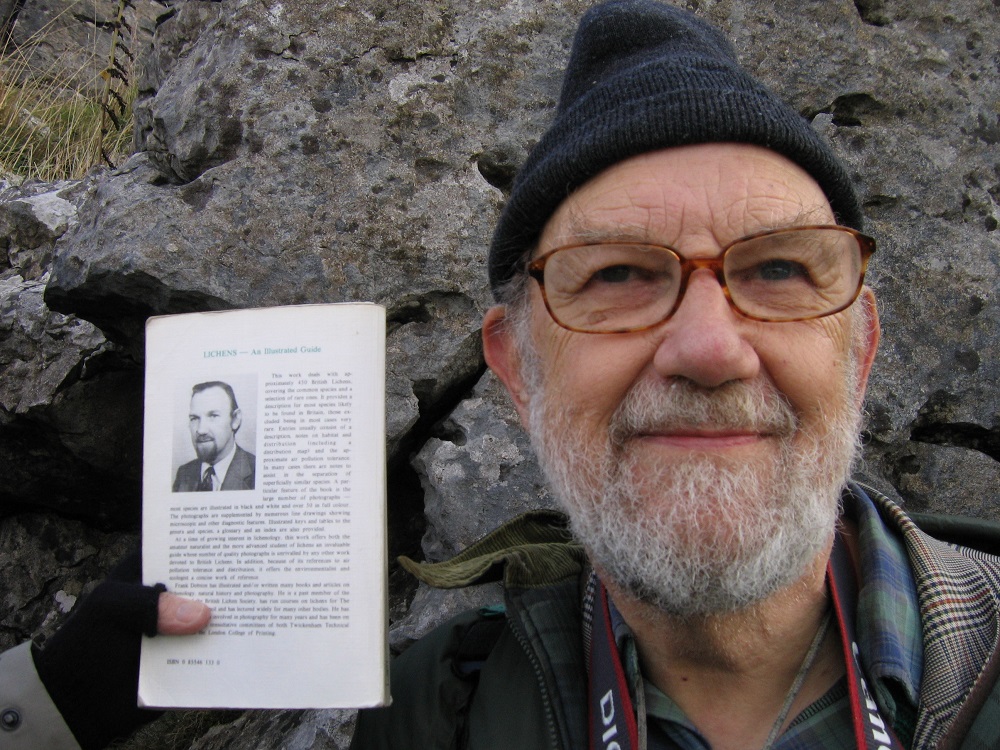 Frank Dobson with his daughter Sue at the BLS AGM 2015: